About Us
For three generations, Ben Salomonsky Jeweler has been active in every facet of Carriage-Trade Jewelry – from Design and Manufacturing, to Restorations and Retailing, and now, e-Commerce Jewelry Sales – since 1908. Our one-hundredth year was a proud moment, for even with the move to the world of e-Commerce Jewelry Sales; we are pleased to continue to purvey the Heirlooms of Tomorrow by strictly adhering to our generational business model of ethics and integrity.
Ben Salomonsky, his father, as well as his grandfather, have been members of the Fine Quality Jewelry Trade, dating back to 1908. The year 2008 was a proud moment for Salomonsky's, as it marked their one-hundredth year creating and purveying the heirlooms of tomorrow – without a change in business ethics, or integrity of Product. The Salomonsky Family has engaged in the manufacturing of beautiful pieces for private individuals, as well as for the showcase inventory at venerable retail establishments. Salomonsky Designs, and articles from other well-respected manufacturers, have been displayed side-by-side in various "bricks and mortar" locations throughout the Norfolk/Virginia Beach metropolitan region, when the Salomonsky Family was engaged in the Retail Trade. Salomonsky Jewelry is proudly worn by connoisseurs of quality in all fifty states, as well as five foreign countries.
---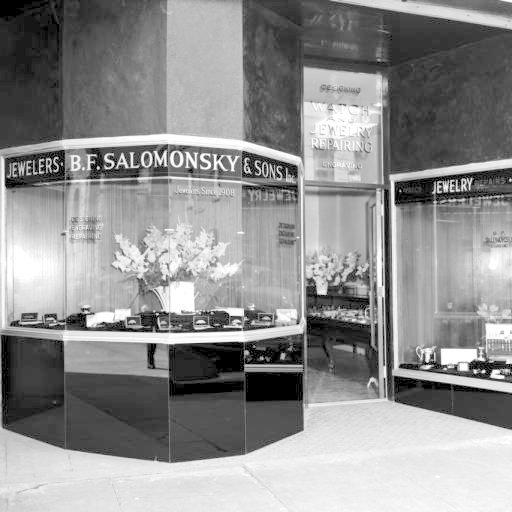 ---
Mr. Salomonsky has always been a stickler for perfection, to which he wears that moniker as a "badge of honor." For example, the small diamonds, in his Designs, are always sorted from parcels of good to exceptional quality stones, that never fall below I in color, or SI in clarity. No round single cut diamonds are used – only full-cut brilliants. Stones of color are picked from a very narrow range of hue, tone, saturation, clarity, and cut.

The manufacture of our limited production items are performed by "Old World" methods, as well as that of the new technology that has graced our profession. Salomonsky's has a strict eye for "Quality Control" – an "Old World" trait that has been passed down from generation-to-generation.
Mr. Salomonsky is a Gemologist. He learned fabrication and design techniques from his elders in the family business. He calls himself a "Jewelry Architect", as he had to learn every facet of production, in order to, now, direct his exceptional craftsmen through the fabrication process, as is related to seeing his Designs go from a sketch to an actual piece of wearable art.
We hope that you will enjoy our Designs, and wear them with the same pride in which they were made!
Salomonsky Designs are proudly worn by Connoisseurs of Exceptional Jewelry in all fifty states, and in many countries across the globe.
We take great pride in our company, our commitment to customer service and in the products we sell. Our online store is designed to provide you with a safe and secure environment to browse our product catalog.